LA6NCA

WW2 GERMAN RADIO PAGE

MAIN PAGE



---
---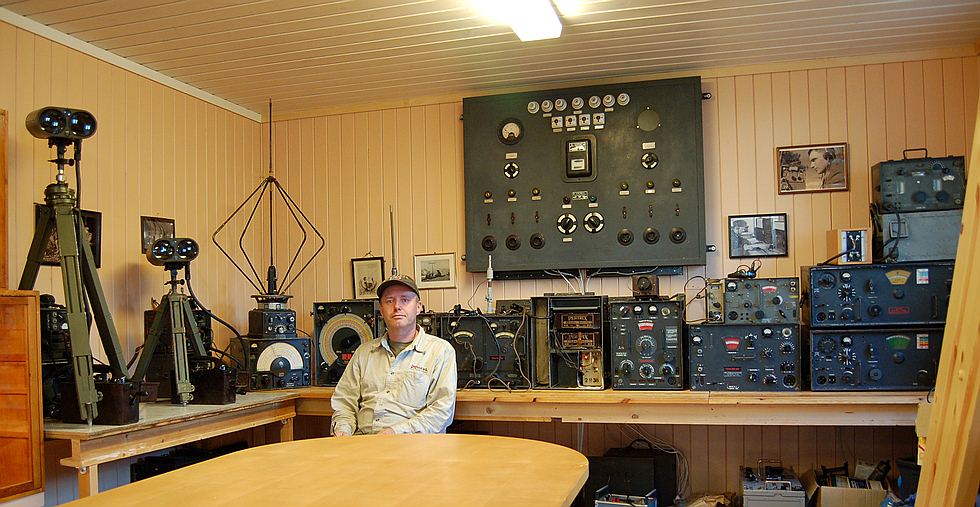 HERE IS MY WW2 GERMAN RADIO COLLECTION


NEW RADIO 1 !!!!




Richtgerät Für Funkpeil, Fu30a,

---


TRANCEIVERS


Kleinfunksprecher d , KlFuSpr.d (Dorette)

KlFuSpr.d Dorette

This is a lightweight two-way radio transceiver used by infantry and artillery observations posts. The frequency range is 33.8 to 38 MHz. The transceiver was ready for use at the end of the war, - October 1944.



Torn.Fu.b1


Torn.Fu.b1

Torn.Fu.b1 transceiver was developed by Lorenz in 1935/36.
This is a HF transceiver for field use.


Torn. Fu. d 2


Torn.Fu.d2 is a portable VHF 2 way communications device with modes A1 " Telegrafie tonlos" and A3 "Telefonie" operated in the frequency range 33.8 to 38 MHz.
Communication range in A3 mode is approximately 3 km and 10 in A1 mode.


Lo 1 UK 35

Lo 1 UK 35
Kriegsmarine VHF tranceiver
UK-Marine-Tornistergerät
Frequency: 41.55-45.75MHz




TFuG.k


This is a two-way radio transceiver used by the German army. The design is based on the Torn.Fu.f, but with 2.4 volt tubes.
Power used on this is a 4.8 Volt vibrator.


SE 108/10
http://www.la6nca.net/tysk/se108_3/index.htm
SE 108/10 Agent / Spy Transceiver

This radio consists of 3 separate units; Power, Receiver and Transmitter.
Each unit is mounted in a small tin box. The radio was used by OKW Amt Ausland / Abwehr.

Ha5K39b

This is a 5 Watt transceiver for 2.0-5.0 MHz.
Modulation is CW or AM.
Used by the Kriegsmarine.



15WSa




Feldfu.f

Feldfu.f
Portable transceiver.
Frequency: 28-33 MHz
Power: 2.4Volt nickel cadium battery.




SE499 A1, Tranceiver

Torn.Fu.b.
Tornister Funkgerät b
Telefunken portable HF transceiver designed in 1935.


FuG16

FuG16ZS, airborne VHF transceivers used in single-seat fighter.
Communication also to ground troops.
40.3 – 44.7 MHz


Lo10UK39/6
NEW !!!!
Lo10UK39, VHF tranceiver designed for Kriegsmarine.
37.5 - 45.5 MHz
18 channels.




RECEIVERS
Lw.E.a

This is a super heterodyne receiver with frequency range from 72 kHz to 1525 kHz.




Torn.E.b

Torn.E.b

TRF-Receiver with 3 tuned circuits and a regenerative detector.



Fu.H.E.u1
Funkhorchempfänger 'u'

Fu.H.E.u1

This is a direction finder and monitor receiver for HF.
A coaxial connector is used on RF input.





E52b, Köln

Köln E52b

Köln E52 is the best short-wave receiver produced under the WW2.





Kw.E.a

Kw.E.a Restoration.

I show on this page calibration and repair.
I have also designed a monitor amplifier.




E10K and E10L are part of the FUG10 s



Mw.E.c


PANZER RADIO
Mw.E.c
This is a super compact high-end medium wave receiver with a "constant-k" crystal filter. Mw.E.c was used in Panzer units.

Samos

German army used the Samos receiver to search for enemy radar activity. By attaching a direction finder antenna, the receiver can also be used to find the source of enemy radar signals. Samos was also used for calibration of German radar transmitters.


Fu.H.E.v

Fu.H.E.v
FunkHorcEmpfänger - v / Monitoring Receiver, VHF


Fu.H.E.c

Fu.H.E.c

Funkhorch Empfänger-c (Monitoring receiver)
3.5 to 25 MHz




Lo6K39a

Lo6K39a

This is the world's best and largest TRF receiver. Have 6 tuned circuits.
Was used on the large Kriegsmarine ships.






KST



KST
This is a German WW2 copy of the HRO receiver.



Ukw.E.d1


PANZER RADIO
Ukw.E.d1



Ukw.E.e

PANZER RADIO
Ukw.E.e
This is the standard receiver used in all German panzer vehicles from 1939 to 1945.




EZ6

LUFTWAFFE
Peil G 6 receiver.

SCHWABENLAND
LORENZ EO 8268
Ln-21021







TRANSMITTERS


Lo40K39

Lo40K39

This is a HF transmitter developed by Lorenz in 1936, and was used by Kriegsmarine and Wehrmacht.
Lo40K39d consist of transmitter type S. 23725/I and power supply type RGLE 0.2/2 bno


S10K - S10L

S10K - S10 L

SK10 is a part of the radio station FUG-10. Frequency ranges 3000 kHz to 6000 kHz.
Power output is between 40 and 69 watts on c.w.

VVVVVVVVVVVVVV


5W.S.b

Transmitter for medium wave.
5 Watt output power.
Frequency range is 950 - 3150 kHz.
Modulation AM and CW.
Two tubes RS241 is used.


100WS


100WS is developed and manufactured by Lorenz AG in 1934.
Frequency range is 200kHz to 1200kHz four bands.
Power out is 100Watt on CW and 25 watts on AM.


10W.S.c
NEW !!!!

PANZER RADIO
Ukw.E.e
This is the standard transmitter used in all German panzer vehicles from 1939 to 1945.



Lichtsprechgerät 80/80
Li Spr 80

Li Spr 80
This is 2-way light beam audio communication equipment.


Radiosonde

This is a radiosonde used by the German army.
It is important for the field artillery to know the air pressure in the atmospheres.

Fu.NP.E a/c

Fu.NP.E a/c
Fu.NP.E a/c is a radio direction finder antenna with amplifier and bandpassfilter.


Luftwaffe


Testset Torn.Fu.b2


Telephone

Here is information about German WW2 telephone systems.



Torn.Fu.b1 Remote Control
Fbg.bf




RADIOSONDE TYPE C


Here is my German WW2 radio display on Norwegian Ham-meeting.
From the left, I Fug10 - 472KHz Station
100WS/Torn.E.b 472KHz Station and
5WS / Torn.E.b 160 meter station
Has shown the inside of one Torn.Eb and put it upside down in the picture.
---
MY FILM


---
DOCUMENTS


Ha39K39b shematic

Detailed description for power connection in the Ha5K39b.



SB-10-T

Telephone switchboard






GERMAN PANZER MAINTENANCE
AND
RECOVERY

FROM US INTELLIGENCE BULLETIN

I have served as radio telegraphist on a Panzer battalion during the Cold War. I know therefore the difference between panzer and signal units.
Panzer units have their expertise from German panzer schools. Much of the Knowledge of comes from WW2. In panzer units, we learned to be perfectionists in our service. We worked very hard to be the best at everything we did.
We got a very great confidence.
And this gave wonderful good results. Imagine the power that is in a unit with the German Leopard Panzers that I was part of.

The Norwegian communications units have their expertise from the England. In the signal units were the case with the top down orders.
The British boarding school officer's thoughts penetrated the culture. The results were very bad. Lucky that there was never a need for communications in a war.
There is a total culture difference.

These thoughts I now after I've gotten more experience can see clearly.
This is no support for the Nazi ideology, but a fact of the Cold War in Norway.
---

MY PRODUCTS

This is products I have developed for my radio collection.

BUNKER

Bunker page.
Freya page.


Special photos

Special photos requested by my homepage users.

OLD PHOTOS

Here are some of my old photos of German WW2 radios..

RADIOS FOR SALE !!!!


NEW!!!


BC-610 Transmitter

USA From 1942
This is an military version of the Hallicrafters HT-4.

AUDIO MONITOR


SILKEBORG 2014



FUG10..

Fug10




IIn these old mines there is a large quantity of rare radios.
They are hidden here by Norwegian authorities.

---
Documentation

Here are some large documents in Norwegian, Danish, Swedish and German.
Do not click on them if you have a slow Internet connection.

MY OLD WWII GERMAN RADIO PAGE
Here is my old page. Some of the photos have bad quality.
You can look at it if you are very interested in WW2 German radios.

---
MY PHOTO COLLECTION


---

NORWEGIAN MILLITARY RADIO TRANCEIVERS

NILSEN SETTET
NEW!!!
NILSEN - Norwegian Radio Station
100 - Designed 1952 in Norway

NRS100 - Norwegian Radio Station 100
Designed 1952 in Norway




NO/PRC-111


VHF-1


---
LINKS


I am the fist person here in over 100 years.
---